Dijon Potato Salad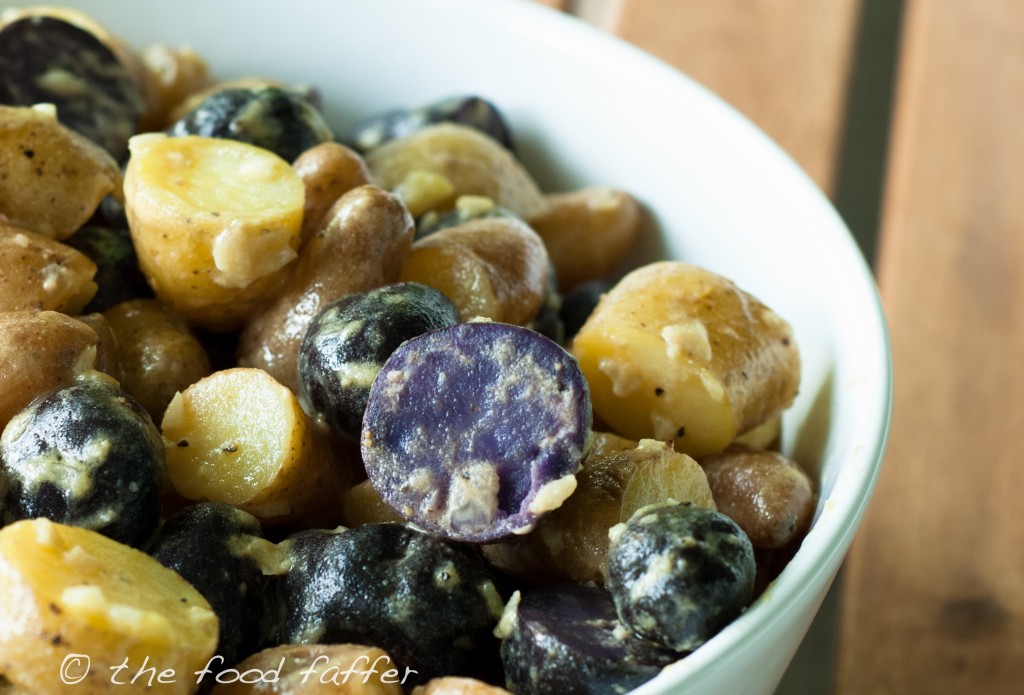 Due to popular demand, I'm posting the recipe for one of my favorite versions of potato salad. Peet and I had a multitude of people over at the weekend… and, after consuming a copious amount of this stuff, there were several requests for the recipe… and I'm nothing but compliant!!
This mayo-less, sour cream-less side dish originally caught my eye because I was needing a potato salad recipe that could sit outside on a table for much longer than its dairy/eggy relatives. Not that I would want to leave this out for hours on end… but I can definitely have my paranoid moments when it comes to guessing how long mayonnaise has been basking in 80ºF temperatures.
The added bonus of this version is that my friend Bernie can't stand mayo or sour cream. So this one works for her. I think. (Bernie, am I remembering correctly that you like this??) Unfortunately, her hubby, Shane, doesn't like mustard… so I'm still on the look-out for a version that satisfies both palates. Let me know in the "Comments" if you have something up your sleeve that's been tried and tested…
I used the tri-colored fingerling potatoes this time, mainly for presentation purposes. I've used pretty much any variety of spuds in the past, and the dish has never let me down. If someone put a gun to my head, though, I'd probably default to fingerlings (colored or otherwise) simply because they retain a sturdy, creamy texture when cooled to room temperature. Also, they can sometimes be tricky to find in the stores (especially if you live in Memphis), which must mean they're more special, right??!!!
This dish is equally wonderful whether it's served warm or at room temperature. Just make sure you toss the tats in the mustard mixture while they're still warm in order for the maximum flavor to be absorbed into the potatoes as they "rest".
So, to the recipe…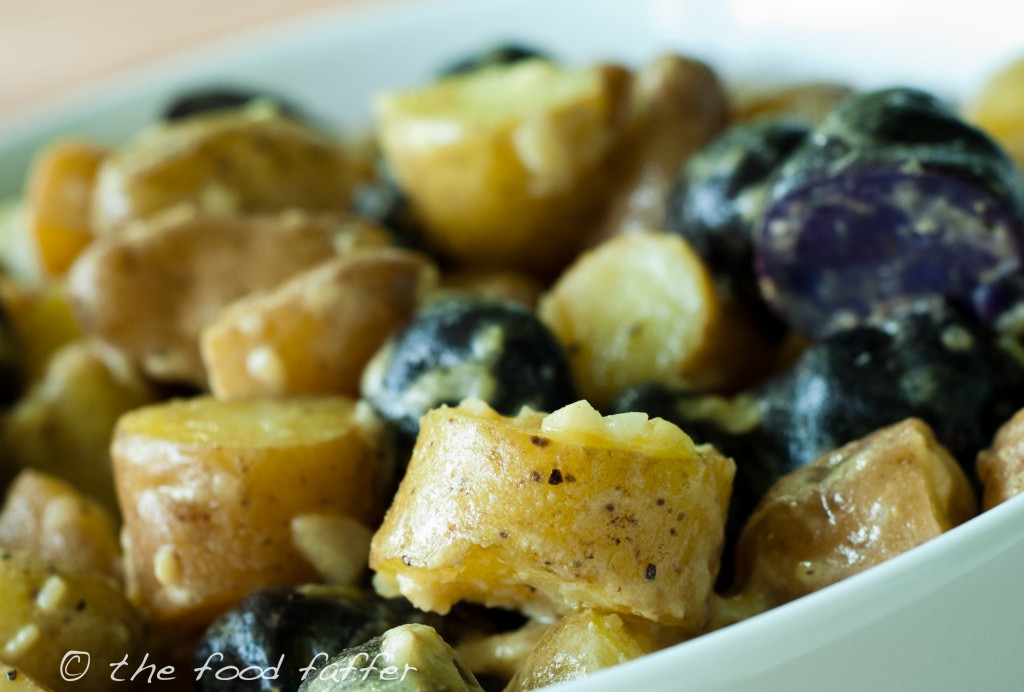 Dijon Potato Salad
(From Food Network's Easy Entertaining with Michael Chiarello, with some tweaks…)
Serves 12… generously!!
1/2 onion, finely chopped
1/4 cup dijon mustard
2 tbs red wine vinegar
2 tsp chopped fresh herbs of your choice
3/4 tsp sea salt
1 1/2 tsp fresh black pepper
1/3 – 1/2 cup olive oil
5 lbs fingerling potatoes, unpeeled and cut into bite-sized pieces
Put the potatoes in a pot of cold, salted water and bring to a boil. Reduce the heat and allow to simmer for approximately 15 mins, until a sharp knife can be inserted easily. Drain the potatoes and tip into a large bowl.
While the potatoes are cooking, mix together the onion, mustard, vinegar, herbs, salt and pepper. Gradually whisk in the olive oil until the mixture has a thick, pourable consistency and add to the potatoes, tossing to coat.
Serve warm or allow to cool to room temperature… and enjoy!!