Slow-Roasted Balsamic Strawberries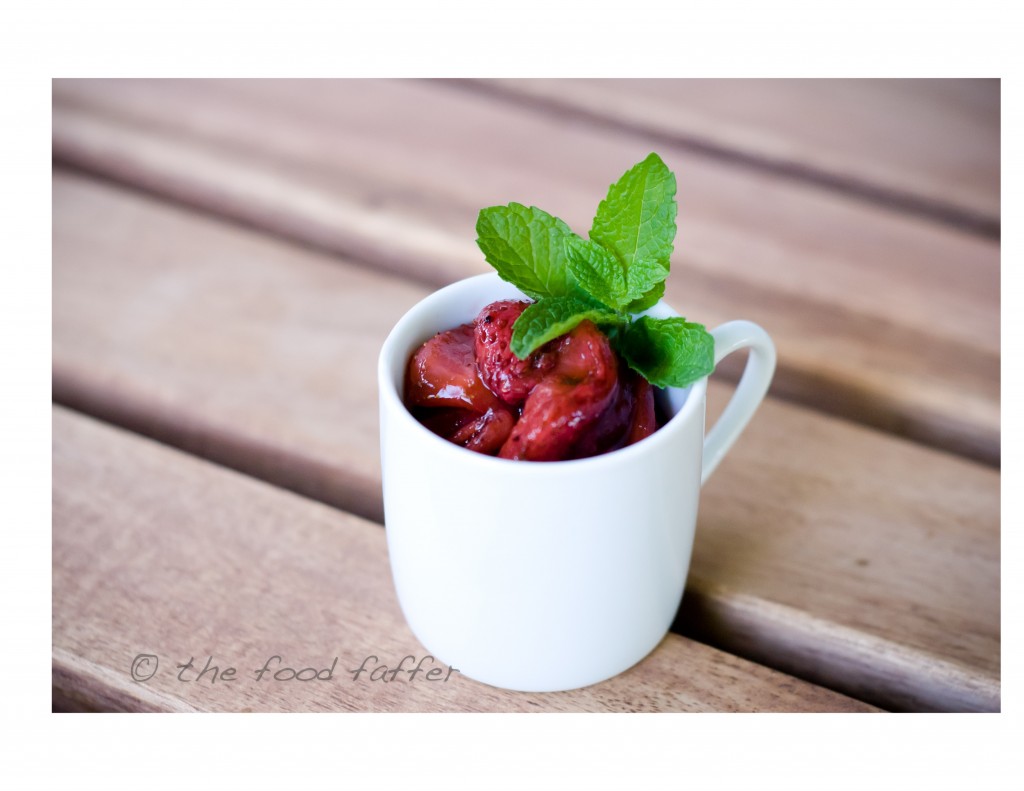 Woo hoo!!  Here it is: my first humble contribution to the mighty world of blogging!!
For my first post, I decided to share a very uncomplicated dessert with you.  I was desperately wanting to get something uploaded, just to get me out of modus procrastinitus (I'm sure that's an official term, right??)… so this seemed like a good one to get started with…
We eat strawberries a lot in our house, both for sweet and savory courses.  But I've never thought of roasting the little things before.  When I saw this recipe on Sticky Gooey Creamy Chewy, something leaped inside of me… and off I went to stock up on strawberries.
Ideally, I would have liked my berries to have been bite-sized so I could roast them whole.  The thought of sticking my spoon into their squishy plumpness and having the juice burst out onto my plate had me salivating!!  However, the only ones I could find were the size of my fist (seriously!!), and I ended up cutting each one into 6-8 bite-sized pieces.  I don't think it really mattered, to be honest… but I'd like to try this again with smaller specimens just to make sure!!
By the way, I'm aware that the strawberries that we can get at this time of the year aren't the most flavorful.  Slow-roasting them really brings out their flavor, so this is a great way to use them up if they taste less than inspiring.
In case you're slightly nervous about mixing balsamic vinegar with fruit, please allow me to reassure you that this is a combination made in heaven.  The vinegar is far from offensive since you're only using a small quantity, and it gives the juice from the sugared berries a pleasant zinginess.  Speaking of the juice, don't panic if it looks thin when you pull the berries from the oven.  As everything cools, the juice will thicken.
So, what do you do with these once they're cooled?  Top them with homemade granola (recipe to come) and a dollop of Greek yogurt.  Spoon them over rich vanilla ice cream and top it off with some dark chocolate curls.  Add them to your breakfast smoothie.  Being a Brit, I love the idea of having them with homemade cheese scones (recipe to come) instead of jam.  Warmed up, they're great over some roast chicken.  Oi oi oi… the list is endless!!  If you make these, maybe let me know in the "comments" how you served them.  I feel a strawberry-fest coming on!!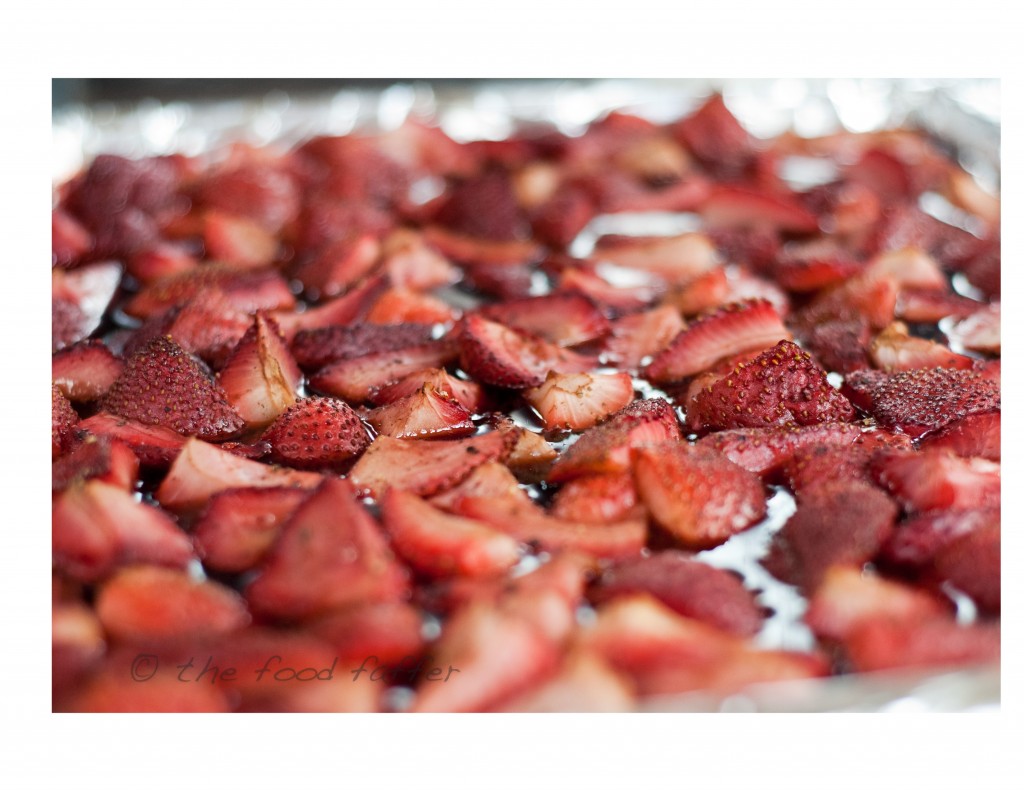 Slow-Roasted Balsamic Strawberries
(From Sticky Gooey Creamy Chewy, with a few minor tweaks…)
1 quart (32 oz) fresh strawberries, hulled
1/4 cup granulated sugar
2 tbs balsamic vinegar
10 fresh mint leaves, chopped
salt and pepper
Preheat the oven to 250ºF.
Put the berries in a large bowl, sprinkle over the sugar and mint, and toss together.
Add the balsamic and gently toss to coat all the berries.
Lay the strawberries in a single layer on a rimmed baking sheet and sprinkle with salt and fresh black pepper.
Bake for an hour or so, until the berries are soft.
Remove from the oven, allow to cool, and store in the fridge.
Enjoy!!