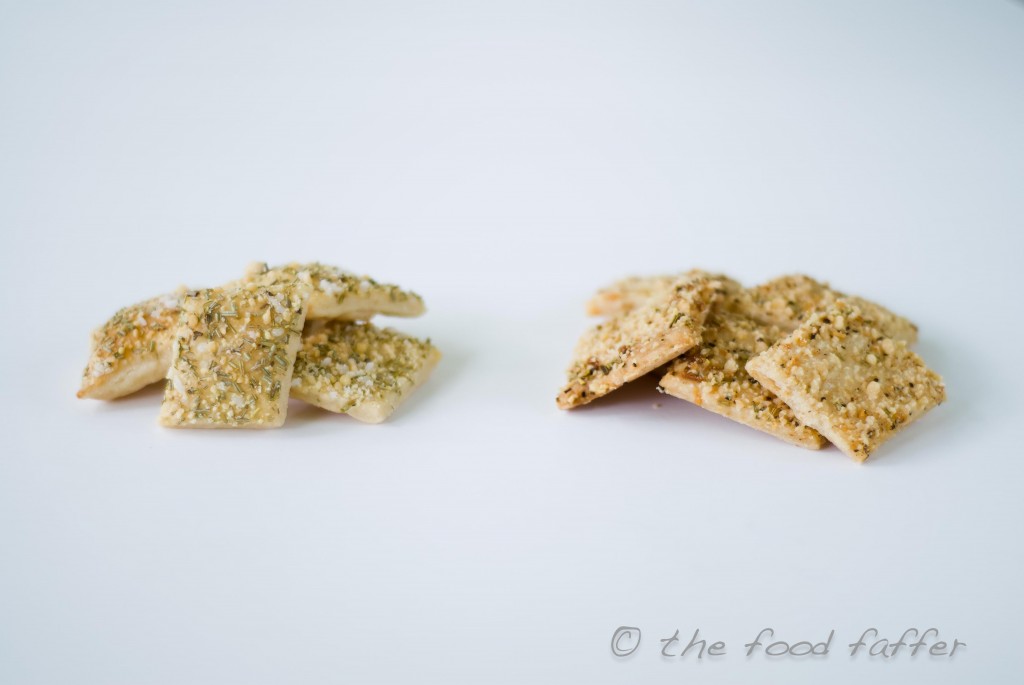 … because what else are you going to do with that leftover pastry?!!
Whenever I make a pie or tart of some description, I always have leftover pastry. I lovingly wrap it in cling film and dutifully stick it in the fridge… and I have every intention of using it. Honestly. I do. But more often than not, it gets shoved to the back of the chilly abyss behind the leftover egg whites, the tub of Philadelphia cooking creme (have any of you tried that fabulous stuff yet??), and the half-sandwich that no one wants to take responsibility for… and I end up feeling guilty as I toss it into the trash a week later.
I have childhood memories of my dad breaking leftover pastry dough into little pieces and tossing it onto the lawn for the birds to eat. Not sure what the deal is with our feathered friends here in the US, but they've done nothing but turn their beaks up at my generous offerings. Hence the need to come up with something far more satisfying to use up the doughy remnants…
A week or so ago, I made a little somethin'-somethin' that needed a pastry shell. It was a savory, cheesey pie… so I made my own pastry and added a handful of grated parmesan to the dry ingredients… just because. I was suddenly inspired to roll out the leftover dough, brush it with a beaten egg, sprinkle it with whatever caught my attention, and slam it in the oven for 20 minutes. Woo hoo!! Success!! Yummy while still warm; yummy at room temperature. Yummy dipped in hummus; yummy just as they were.
Between me, Peet and Moeks (mum-in-law, visiting from South Africa), they didn't last long. And you know what? They were so good, I'd make some pastry for the sole purpose of having a batch of these sitting around!!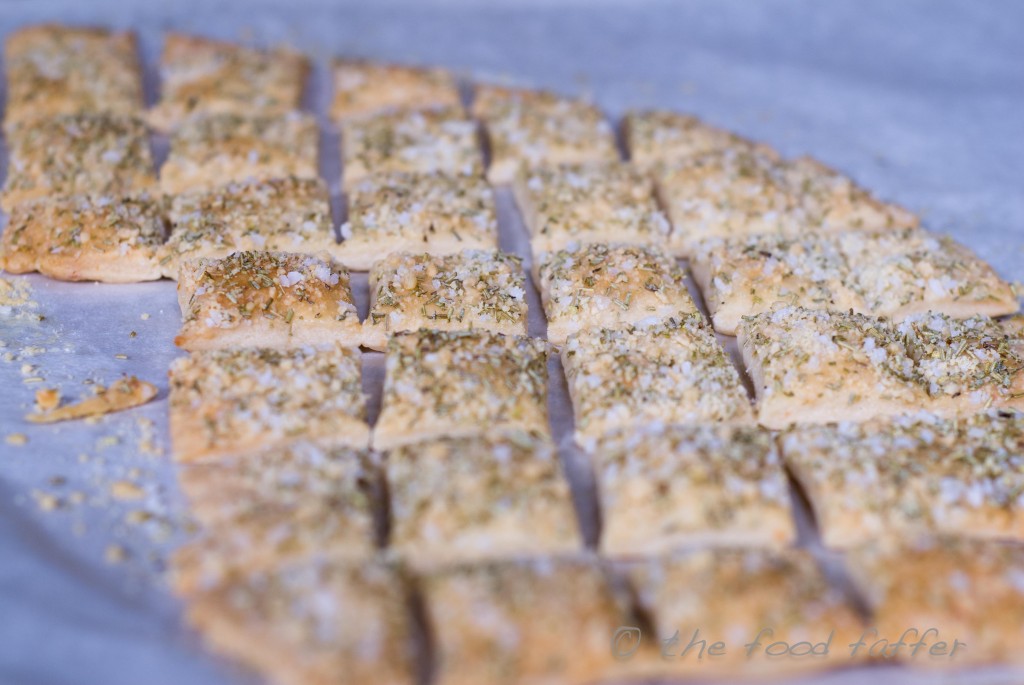 Here are some notes that might be helpful…
•  If you only have shop-bought pastry/pie crust in the house, that will totally work. You really need to give these a try. If you're making your own pastry, try adding a handful of grated parmesan to the dry ingredients for some extra cheesey-ness…
•  Don't skip on the "beaten egg" part. This gives the crackers a lovely golden color when they're cooked… but, more importantly, it makes the seasonings stick to the pastry. (I can't stand it when I buy crackers that have "stuff" on them, but it's all fallen off in the packet by the time I open them!!)
•  You can sprinkle whatever you like on top. Be creative. Peet and I love sea salt and rosemary, so that was my default. But I also made some using one of my favorite seasonings: Tone's Rosemary and Garlic (I buy mine from Sams, but you can also get it from Amazon and other online stores). How about a sweet version (but maybe leave the cheese out of your home made pastry!!) with cinnamon sugar on top? You get the idea…
•  Cut the uncooked pastry into bite-sized squares after it's been sprinkled and before you put it in the oven. The pastry will shrink during cooking, which means you have a sheet full of neat and tidy, ready-cut crackers. (If you wait until it's cooked before cutting, the crackers may crumble in the process.) Using a pizza wheel for this makes life really simple.
This couldn't be easier…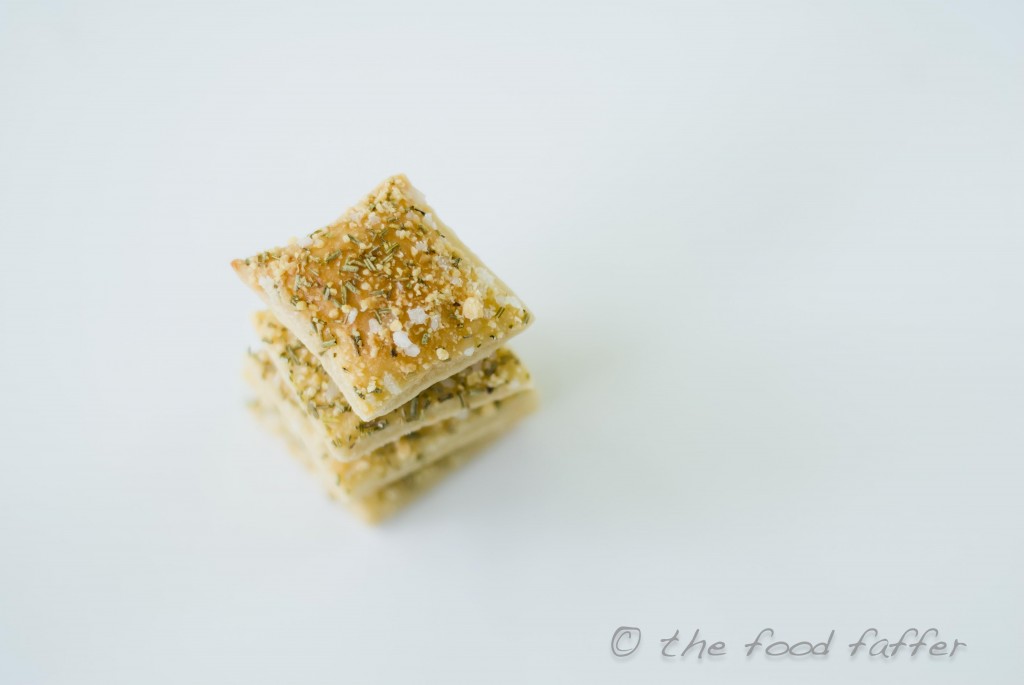 Sea Salt and Rosemary Crackers
shortcrust pastry (also known as "pie crust")… not puff pastry
beaten egg
sea salt or kosher salt (not the massive crystals… just the medium ones!)
dried rosemary (I use the crushed stuff to avoid the sensation of twigs in my mouth!)
grated parmesan  
Preheat the oven to 350ºF.
Roll out the pastry on a floured surface until it's approx 1/8 inch thick, and carefully transfer it to a parchment-lined cookie sheet.
Brush a thin layer of the beaten egg across the whole surface area of the pastry.
Sprinkle a layer of salt across the pastry, followed by a generous sprinkling of rosemary, ending with a light dusting of parmesan.
Using a pizza wheel, cut the pastry into bite-sized squares.
Bake for 20-25 minutes, keeping an eye on them and pulling them out when they're golden brown on top.
Eat.
Make more. 😀