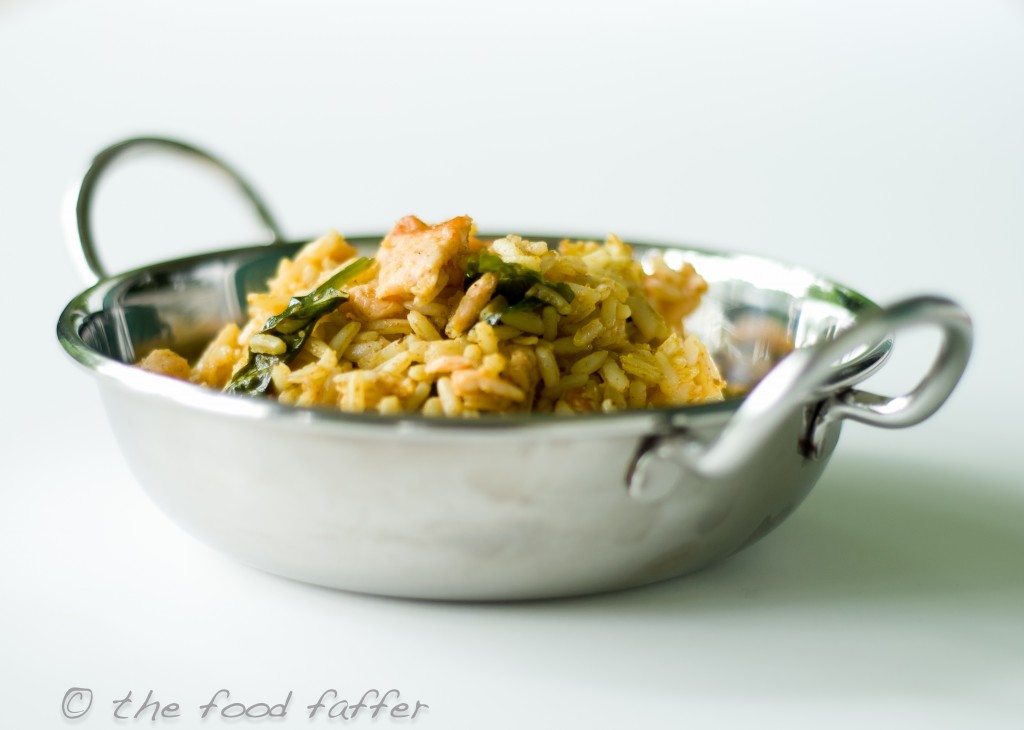 Erm… hi.
Yes – I realize it's been a while. Sorry. But with Big Birthdays, the end of the school year, graduation festivities, road trips, weddings, photo editing assignments, blah blah blah, it's been tricky finding time to come up for air, let alone being creative in the kitchen!! But I think I'm back in some sort of vague routine, so let's see if I can keep this up a little longer than before, huh?!!
I've been wanting to post something that isn't a cake or dessert, but I was struggling to get inspired. Which is kinda strange since Peet and I eat non-cake/non-dessert things all the time!! Anyway, we had some friends over for dinner on Friday… and as we started cooking our favorite "kedgeree", I declared this to be the next thing to share… and I do so in honor of my friend Heather, who requested this as her first meal after coming home from hospital when her little boy Noah was born. It's that good!!
If you're not familiar with kedgeree, the basic information is that it's a curry dish that traditionally features rice, fish, butter, parsley and boiled eggs. But you can shimmy the ingredients up to match your tastebuds and/or what you have to hand. There are no rules. And it's a great way to use up leftovers.
It's also a great way to introduce yourself (or your non-curry-eating friends) to the taste of curry. I used to cook lunches for a college here in Memphis… and it became a favorite amongst staff and students, some of whom had never had curry before. And PLEEEEEASE don't be put off by the smoked salmon. I've had evangelistic fish-haters love this dish, and then compliment me on how nice the chicken tasted!! (I bet you're dying to know if I told them what it really was, right?!!) I also know people who don't like smoked salmon, yet they eat this quite happily.
Having said that, more than once we've switched the smoked salmon for tilapia, fresh salmon or chicken breast (each cooked and flaked), and they were all very tasty versions. But we always come back to the smoked salmon as our fave.
Couple of other things worthy of a mention:
• All of the quantities listed below are as accurate as I could get them as Peet happily threw the next thing in the pan (he doesn't believe in measuring, even when I'm trying to write our creations down!!). It's easy to make it once, though, and then jiggle quantities according to your taste (eg. hot/mild curry, more/less butter, etc).
• Be creative with add-ins!! We substituted baby spinach for the parsley in the original recipe, mainly because we wanted some kind of leafy veggie in there. But how about golden raisins (aka sultanas)? … shredded coconut? … orange bell peppers? … even the classic boiled eggs (eewwww!!)? The list is endless!!
I'd love to hear how any experimenting goes…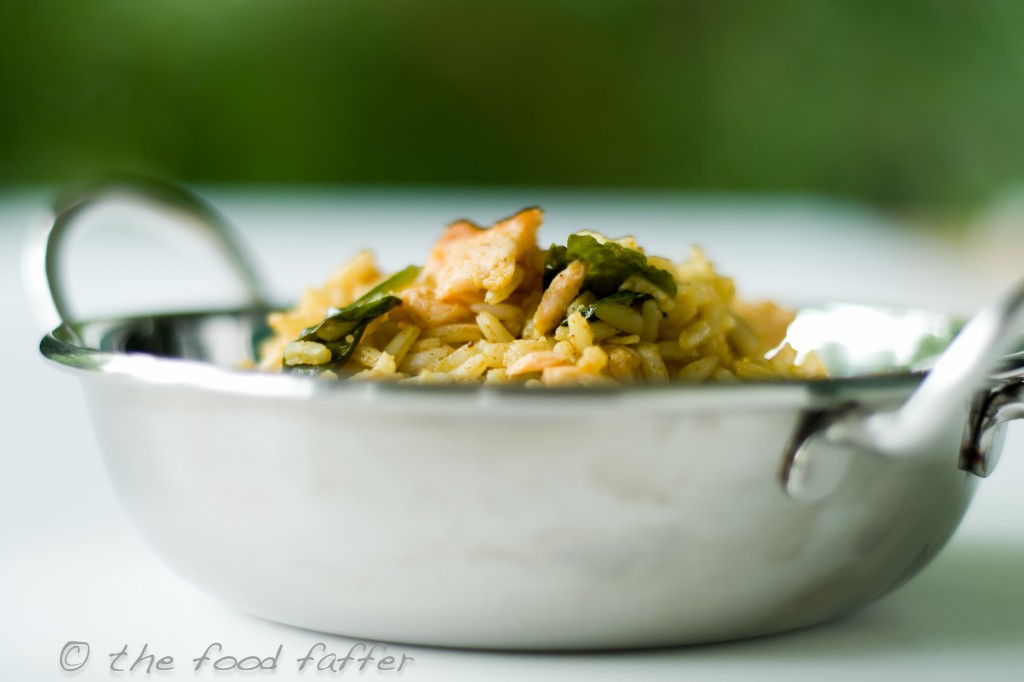 Smoked Salmon Kedgeree (serves 8-10)
(From BBC's Good Food, with some tweakings…)
3 cups / 21oz / 600g rice, uncooked
2 sticks / 8oz / 200g unsalted butter, cubed, divided
4 tbs olive oil
3 tbs hot curry paste
2 tbs cumin
2 small onions, finely chopped
18oz / 500g smoked salmon, cut into small pieces
3 limes, juiced
4oz / 112g fresh baby spinach
Add the rice to 6 cups of salted water and bring to the boil. Reduce the heat and allow to simmer until all the water has been absorbed and the rice is cooked. Remove from the heat.
Grab the largest household skillet you can lay your hands on (mine is 14″/36cm across and 3.5″/9cm deep) and melt half the butter in the olive oil until it starts to sizzle.
Stir in the curry paste and cumin, allowing the fragrant spices to tickle your nasal passages!!
Add the chopped onion and cook until softened.
Stir in the cooked rice, making sure it's all covered in the yummy, buttery, curry liquid, and ensuring that it's thoroughly heated through.
Add the smoked salmon and spinach to the pan, together with the remaining butter, and try to distribute it all evenly throughout the dish.
Gently stir in the lime juice right at the end to give the dish a fresh zing.
Serve in warm bowls if possible, since it can cool down rather quickly.  It can also be served at room temperature… but this should be an intentional decision, not an accidental one!!
Enjoy!!